Products / HV Energy Systems
60 to 900 Vdc
HV Energy Systems
Individual HV battery solutions from a single source
With our high voltage Energy Controller, we can meet your individual project requirements and provide energy solutions from a single unit. The aentron lithium-ion energy controller enables the realization of modular and scalable battery solutions. The management of lithium-ion battery systems consists of two essential standard components that, tailored to their specific requirements, provide the right solution for your needs:
Battery Management System (BMS) 
aentron Energy Controller (AEC)
Our technology and the special cell holder system guarantee safety, robustness and high-power density. Together with the low weight, this results in a considerable current account.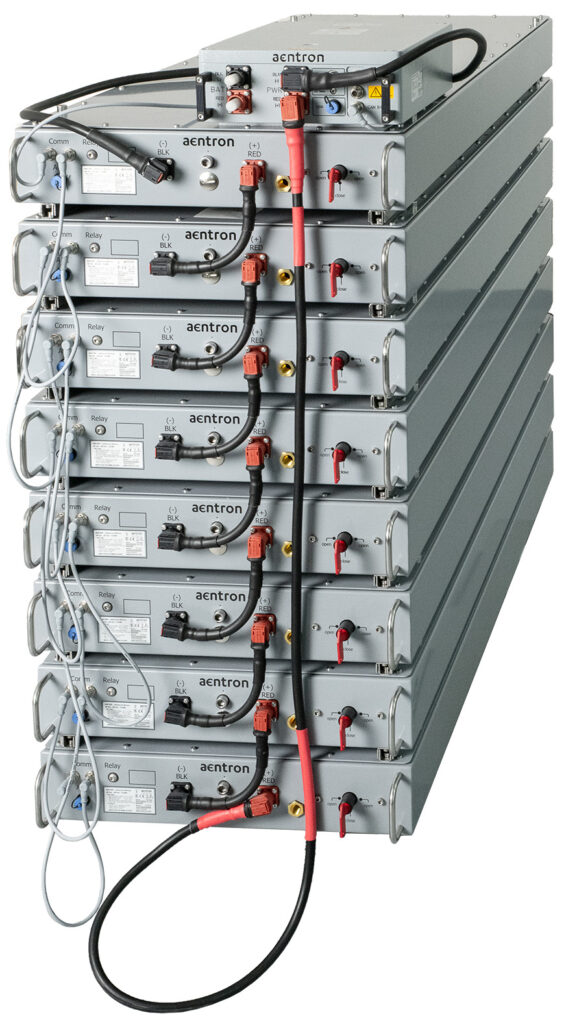 Standard features &
key functions
The following comprehensive control and safety functions for managing a modular energy storage system are implemented in our products:
Customer communication interface CANbus / USB
Realtime data logging
Native Firmware-Updates via CANopen: 125, 250, 500, 1000 kbit/s
Monitoring from up to 25 modules per controller-unit
Contactor / relay controlling with pre-voltage function
Heating and cooling system control
SoC- and SoH-calculation
Independent hardware-security layer
Operating temperature from -30 °C up to +100 °C
Protection class: IP 66
Redundant internal 12 Vdc supply DC-Out (25 W)
Isolation monitoring (optional bender isolation detection)
CANopen bus communication (standard 250 kbps, 11-bit ID) (ISO 11898) provides access to all relevant system information and parameter changes. It ensures communication between the energy controller and the customer application and enables the construction of control circuits for charging and/or discharging the battery. Firmware updates can be easily received via USB 2.0 to 3.0. The module has a galvanic isolation up to 1,000 Vdc. 
Mobile machinery, industrial machinery, maritime applications for impulsion and the hotel energy, water purification and pumps, ON/OFF-grid solar energy, constructions machines, event and performance power, emergency power and security solutions, mobile energy supply systems, expedition vehicles, outdoor-solutions, caravan
We would gladly help you if you have any questions regarding our products!