Maritime & Offshore
Energy Solutions
Powerful and
reliable on the water
In order to plough across the water at full power, electric-powered vessels require reliable and powerful propulsion solutions. aentron provides up to 900 Vdc battery solutions, even for the harshest of sea conditions. 
aentron's maritime battery systems are modular and can be flexibly adapted to customer requirements. All aentron batteries can be refurbished and put back into operation at the end of their life cycle. This significantly reduces the cost of ownership and the products' carbon footprint.
aentron battery systems are ideal for demanding use on the water: aentron's battery systems are dustproof and have a tightness level to withstand heavy water splashing up to IP66. The batteries from aentron are also characterized on the high seas by their high energy density, robust design, energy management and power configuration and can be easily integrated into existing systems thanks to the "Plug & Play" system.
Certified battery technology meeting the highest standards for maritime environments
A reliable, safe and high-performance energy supply is of central importance in commercial shipping as well as in the private sector such as electric motorboats and yachts. Our batteries meet the highest standards as well as the harsh of conditions, both on and offshore. This was confirmed by the DNV-GL Type Approval. (TAE00003BY).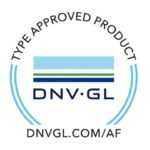 Please contact us or request a callback if you have any further questions.